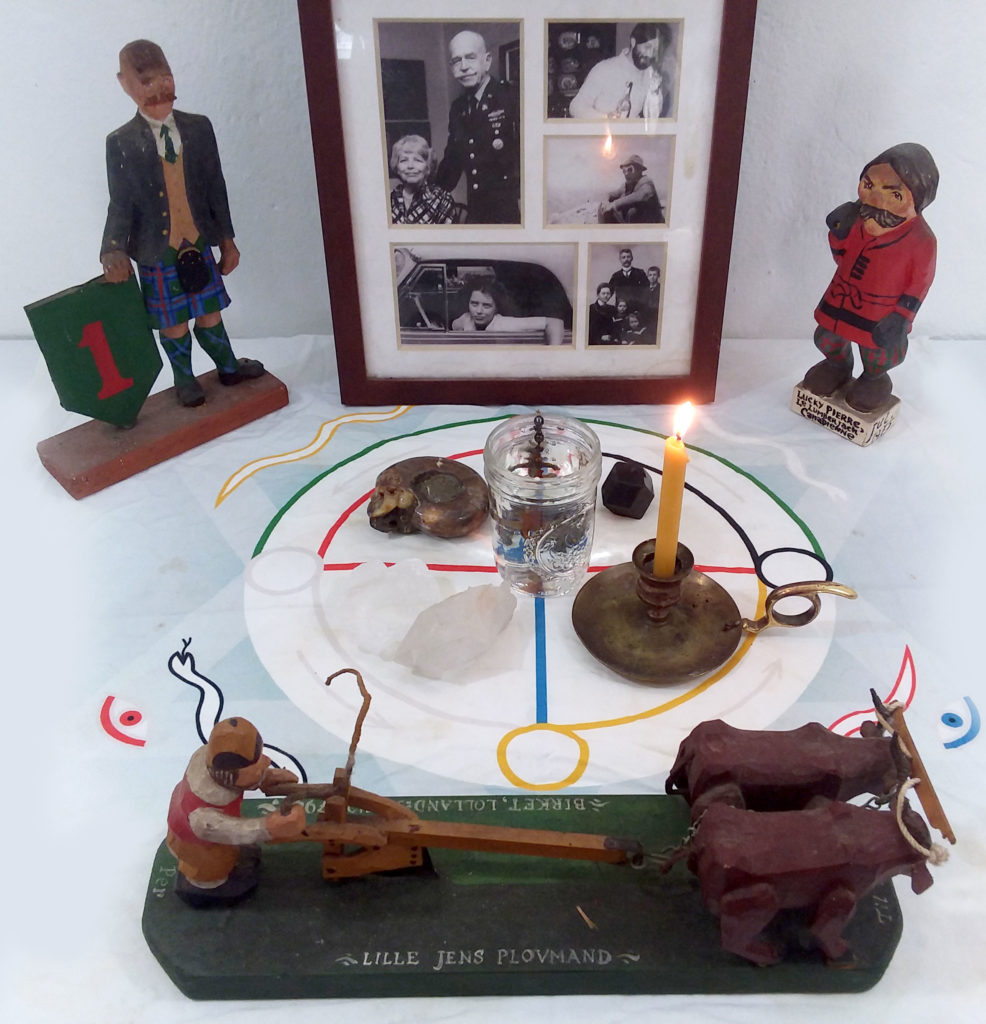 How to set up an ancestor altar
The tradition of maintaining an ancestor altar comes from Puerto Rican espiritismo, but I've had one for 20 years and always found it incredibly useful, as an add-on to hoodoo or anything else. A lot of people would even argue that maintaining a connection to your ancestors is foundational to any of these African-influenced practices (or just magic and witchcraft generally) and I don't disagree.
Anyway, the first step is just to find a table of some sort – not in your bedroom – and cover it with a white cloth. In the Afro-Latin traditions folks usually put 7 (or sometimes 9) glasses of water on top which get changed every week, but since I found that too much of a hassle to maintain, I decided that having one glass of water I do refresh consistently was better than 9 I let get scummy & dried out.
Also add photographs of your deceased ancestors – parents, great-grandparents, whoever you can find. Learn their names if you can.
NO living people, NO non-relatives (pets, etc), no "Deities & Demigods" – ancestors ONLY.
Once week, sit down in a quiet moment and offer your ancestors a white candle and change their water. Fresh flowers are nice, as are frankincense incense & a fresh cup of coffee – or perhaps a shot of rum (or whatever drinks they liked in life.)
Tell then your concerns, what you're working on, the challenges you're facing and the problems you are trying to solve. When you notice thoughts or prompts that aren't coming from you, PAY ATTENTION.
Your ancestors are for guidance and protection, not witchcraft, so don't try to "work" them. Use this time to let your mind go still and receive their guidance.
If you're honoring you ancestors in this way for the first time it may take some weeks (or even months) to establish a connection, so don't get discouraged – your persistence will pay off.
ADDENDUM: A few folks have asked me about the cloth on the table in the photograph, that's actually the "light" version of a Kongo Cosmogram (sun wheel) I designed and had custom printed for a project I did with a friend a few years ago, please see inset view (on right) for a visual explanation.