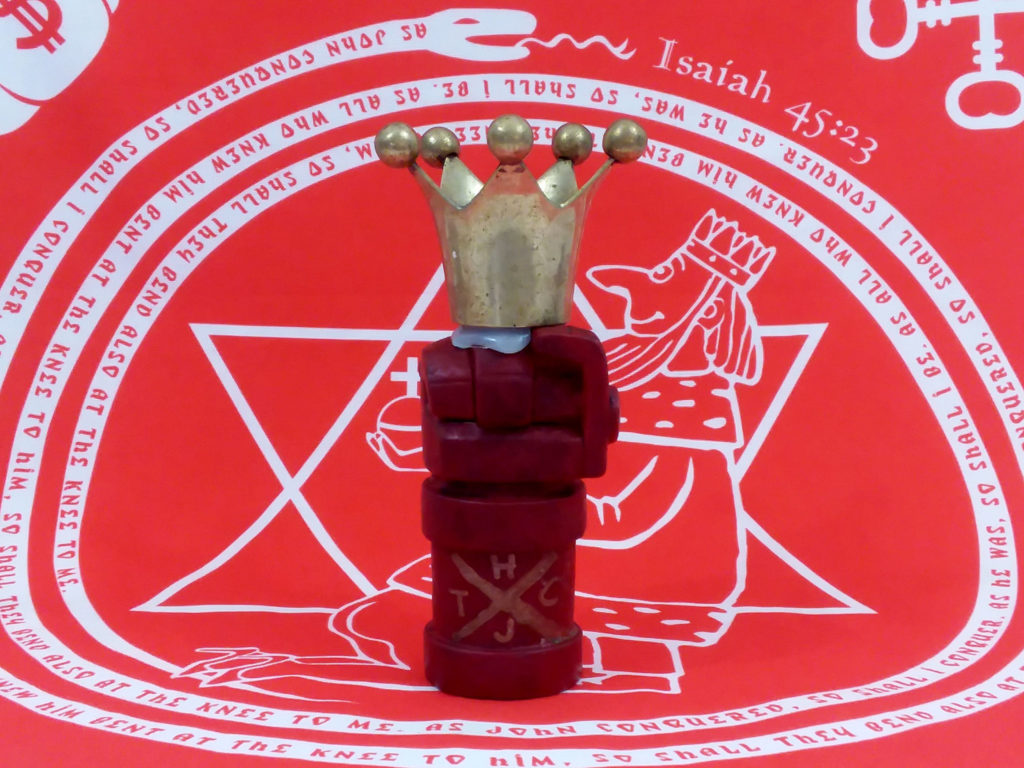 How to Make a Pugnus Sanctus (sacred fist)
Since I'd already made a left hand for receiving, I decided I also needed a right hand for giving, which I made by filling a ceramic coin bank shaped like a fist with ingredients alleged to amplify courage, dominion and wisdom.
This is what the Lord says to his anointed,
to Cyrus, whose right hand I take hold of
to subdue nations before him
and to strip kings of their armor,
to open doors before him
so that gates will not be shut:
I will go before you
and will level the mountains;
I will break down gates of bronze
and cut through bars of iron. [Isaiah 45:1-2]
There are certain ingredients I added to this fetish that I actually went back and added to others I had already made:
5 pieces of gold – on the advice of a friend, the great Manuel Congo.
A mercury switch – this is a technique imported from Palo. The liquid metal itself is highly toxic, so instead of using that I get small, sealed glass tubes with mercury inside of them from an electrical supply warehouse and use those instead to ensure that the spirit will stay constant, restless motion.
Multiple John the Conqueror roots – 3,5,7,9 or 13. By tradition, any single John the conqueror root can be charged with up to three functions, so including multiple roots in a single fetish allows you to give each its own purpose.
As with other fetishes I've made, I first greeted John the conqueror, lit some incense (myrrh & vetiver) and a candle, and then loaded the fist with each ingredient one by one, pausing to spray each with whiskey, fumigate it in incense, and cross it over the candle in the names of the Father, Son and Holy Ghost:
For the "pugnus sanctus" I used:
3 badger claws
Beth root
Black Cohosh
Borage
Cat's foot (forepaw bones)
Chickory
Coon Dong
Cubeb berries
Gravel Root
Handcuff key
Licorice stick
Lightning-struck wood
Name paper with hair from head, armpits and groin; mercury dime
Palad Khik (Thai penis charm)
St. Michael medal
Star Anise
Tobacco
Woodruff
Once all of the ingredients were loaded, I filled the base of the fist with a 1/3 pound or so of melted beeswax and prayed Isaiah 45 in its entirety. This piece is good for courage, dominion and powerful luck.