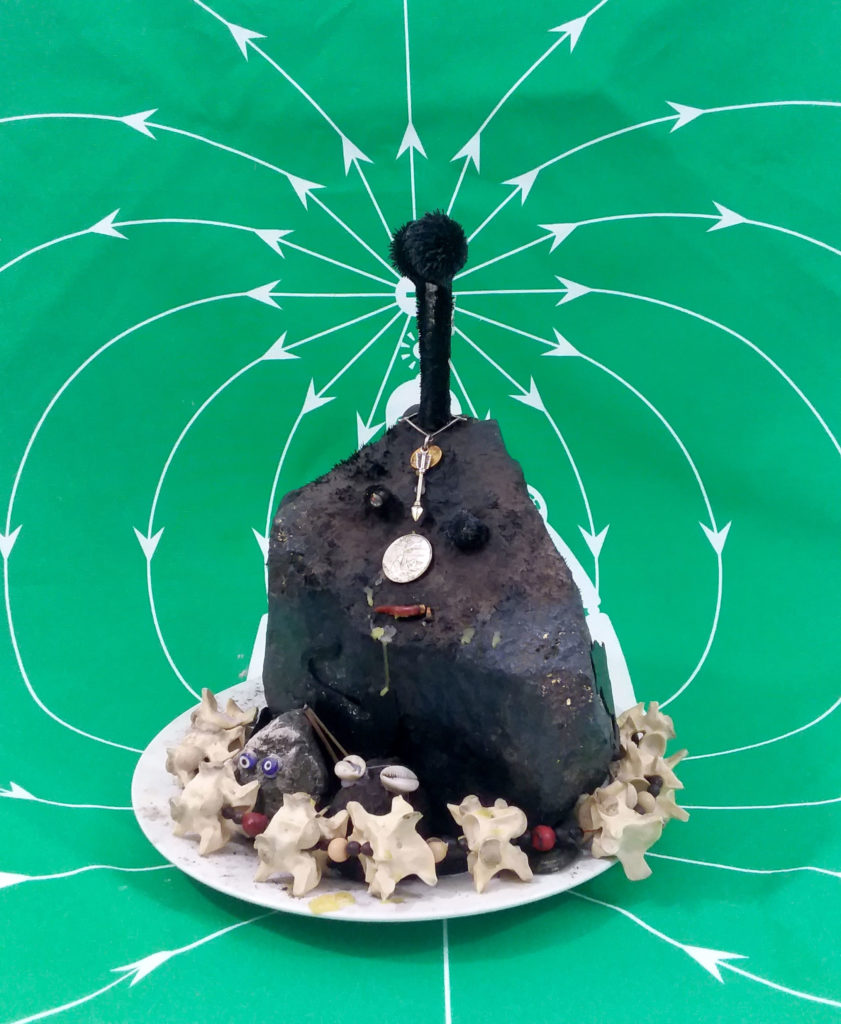 How to make a lodestone altar
Pretty much everything I do seems to work just a little bit better for me when I can put a face on it or anthropomorphize it in some way, and this lodestone was no exception.
Basically, this set-up called for a lodestone, a John the Conqueror root, a chunk of pyrite, a piece of red coral, a piece of gold, and a piece of silver; to these I made the following modifications
cowrie shell eyes on the High John root
the Lodestone (pretty huge at 22 lbs) got a neodymium antenna and two neodymium spheres as eyes
his "nose" is made out of a JFK half dollar with a magnet inside of it
his "mouth" is an Italian "cornetto" made out of red coral (attached with beeswax)
around the whole thing there's a necklace made out of boa constrictor vertebrae I picked up in the Peruvian Amazon a few years ago, the better to capture and hold prosperity
I'm really just presenting this for fun, obviously your lodestone set-up can be a lot simpler. The important thing is to bring it to life with whiskey and incense and prayer:
O precious Lodestone, you that ran along with the Samaritan woman, to whom you gave beauty and luck. I bring you gold for my treasure, silver for my house, copper so that I never lack but am always bountiful, coral so that in my house there will never befall envy or anything amoral. O Divine God, who gave to all men wisdom and power as the Lodestone. May none of these powers be lacking within my house.
You should also give it a name, "Godzilla" for example.
Once a week or so I spray Godzilla with a little whiskey and sprinkle him with magnetic sand, saying something like "As I feed you, so may you also feed me." The idea is that I am "training" the lodestone to continually attract and bring money to me, reinforcing that with a "reward" every time he does so.