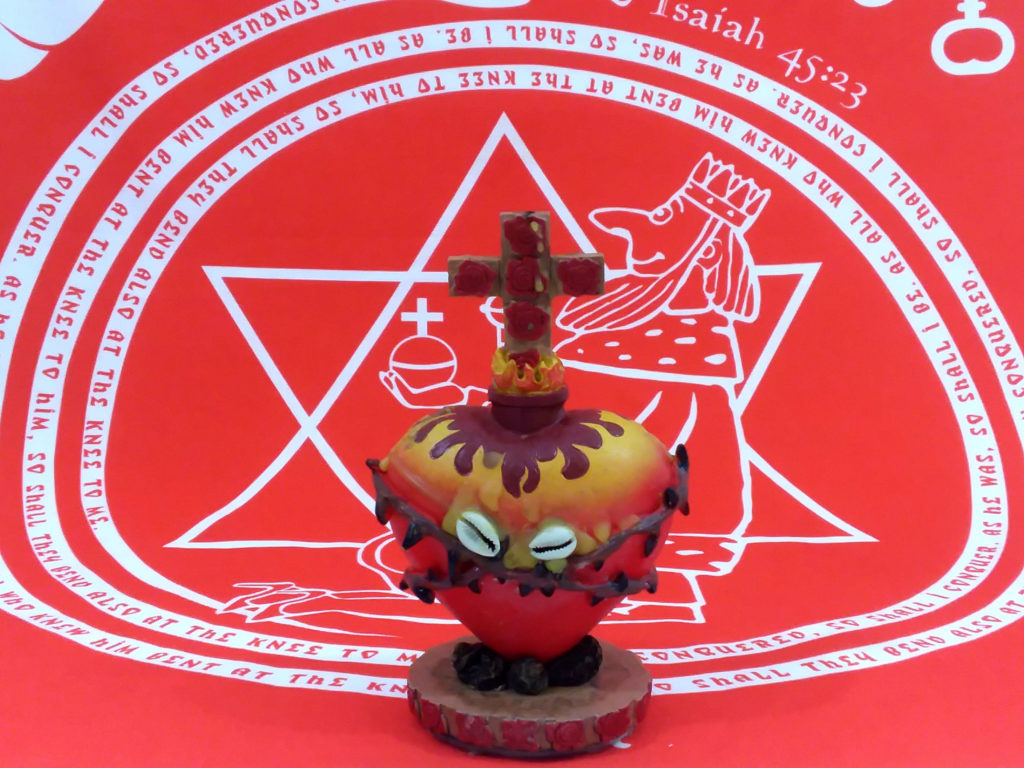 How to Make a Hoodoo Healing Heart Fetish
This piece was inspired by visions I've had of the Sacred Heart of Jesus while in the Peruvian Amazon and was dead simple to make. Basically I just got a cheap "sacred heart" statue off of Amazon.com and then drilled a hole in the back; when the bit slipped and poked a hole out of the front, I just drilled another hole in the front to match the first and used them both as insets for cowrie shell eyes.
To consecrate it, I dressed a pink candle with Fire of love and healing oil, lit some Jasmine incense, then sprayed each ingredient with whiskey as I breathed life into them and crossed them over the candle in the names of the Father, Son & Holy Ghost:
So far this has proven to be pretty effective at effecting reconciliations and soothing emotional heartbreak and loss, but as the list of ingredients is reconstructed from memory please do your own research before attempting.
If I speak in the tongues of men or of angels, but do not have love, I am only a resounding gong or a clanging cymbal. 

If I have the gift of prophecy and can fathom all mysteries and all knowledge, and if I have a faith that can move mountains, but do not have love, I am nothing. 

If I give all I possess to the poor and give over my body to hardship that I may boast, but do not have love, I gain nothing. 

It does not dishonor others, it is not self-seeking, it is not easily angered, it keeps no record of wrongs. 

Love does not delight in evil but rejoices with the truth. 

It always protects, always trusts, always hopes, always perseveres. 

Love never fails. But where there are prophecies, they will cease; where there are tongues, they will be stilled; where there is knowledge, it will pass away. 

For we know in part and we prophesy in part, 

but when completeness comes, what is in part disappears. 

When I was a child, I talked like a child, I thought like a child, I reasoned like a child. When I became a man, I put the ways of childhood behind me. 

For now we see only a reflection as in a mirror; then we shall see face to face. Now I know in part; then I shall know fully, even as I am fully known. 

[1 Corinthians 13]