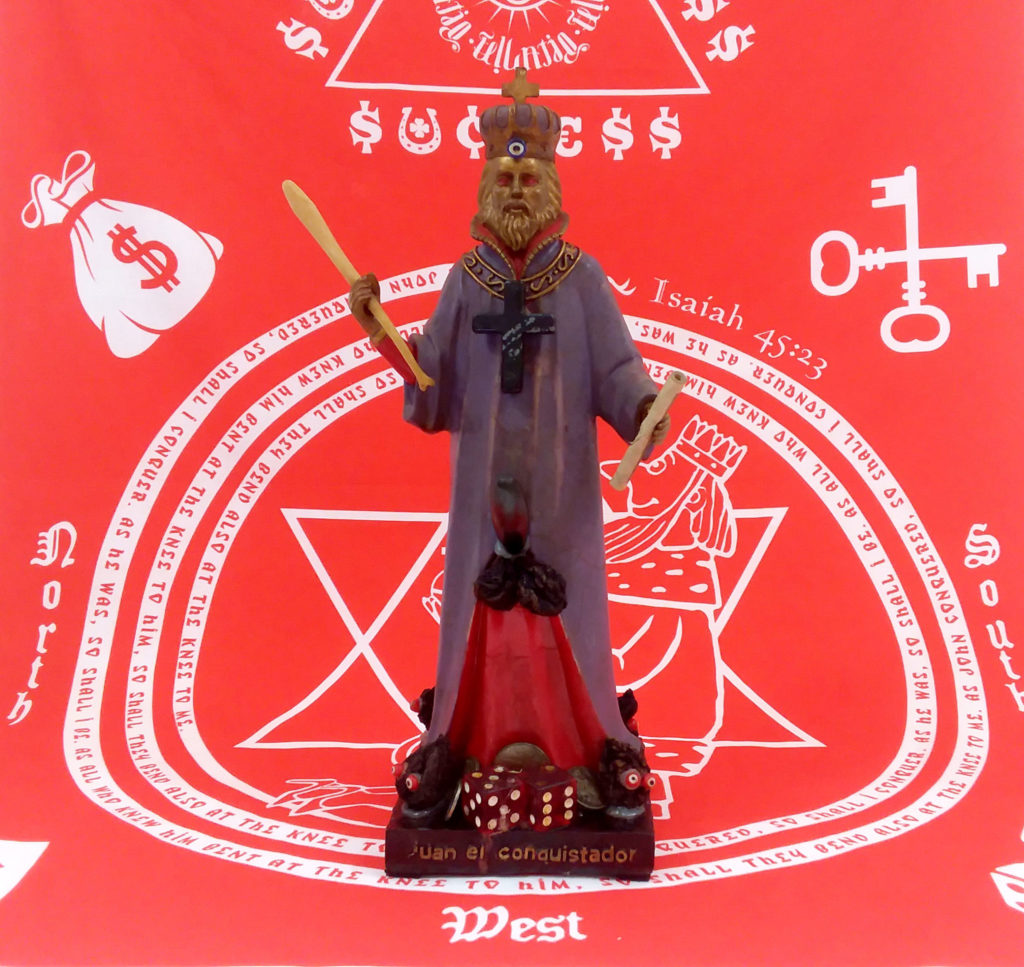 How to Make a High John the Conqueror Loaded Statue
November 29, 2019
|
|
Comments Off

on How to Make a High John the Conqueror Loaded Statue
|
Recipes & Rituals
This piece evolved in stages and was directly inspired by an Exu fetish I saw in New Orleans once. It depicts High John the Conqueror in his role as the "Mayor of Hell," per the Zora Neale Hurston story – the ultimate malandro (rascal)!
The gold face and red eyes were inspired by Thai barang amulets and show evidence of metta (loving kindness) and spiritual heat, respectively. His scepter has been replaced by a "coon dong" and he carries a baby or a $2 bill in his left hand depending on what mood he is in.
I loaded it through the bottom with 37 different roots, herbs, minerals, animal claws and necromantic curios and then sealed it back up with 12 oz of beeswax – this thing is a freakin' BEAST!
Instructions:
Go on amazon.com or eBay and search for a "John the Conqueror" statue – a resin one about a foot tall should cost you $30 or so. If you want, you can use a gold leafing pen to paint his face and hands gold, otherwise you'll have to stare at whoever's bland countenance this is actually based on.
I also customized mine by giving him a third eye made out of a blue Turkish "evil eye" bead, a magnetic penis and high john roots for testicles.
Whenever you feel ready, find a power drill and open up a square hole in the bottom of the statue, making sure to avoid drilling all the way through to his robes; a 2×2" opening in the exact center of the base should be fine.
The smell of the barely cured resin on the interior will be a little off-putting, so you can wash out the inside with whiskey if you want to; I didn't notice any change in the odor, but High John seemed to enjoy his liquor either way.
Assemble your ingredients; I used (of the top of my head):
13 whole John the Conqueror roots
5 human metatarsal or phalange bones from the Bone Room (google it)
5 whole Beth Roots
5 microscopically small gold nuggets (flakes, really)
3 whole "Chewing John" roots
Alligator claw
Bee Pollen
Borage
Buckeye
Cinnamon stick
Dragon's Blood resin
Five-finger grass
Grains of Paradise
Gravel root
Life everlasting herb
Master root chips
Name paper with hair, nail clippings and a Mercury dime
Nutmeg
Patchouli root (whole)
Quartz skull
Rattlesnake skin (small section)
Solomon seal root
John's Wort
Star Anise
Tobacco
A piece of blue glass from the crossroads near my apartment
A piece of red glass from the crossroads near my apartment
A stone from the crossroads near my apartment
As with the High John Loaded Crucifix, you should knock each ingredient three times on a tabletop to wake it up, spray it with whiskey, cross it over a lit candle in the name of the Christian trinity, and then breathe life into it before putting it into the statue.
Once the statue is full, melt 12oz or so of beeswax, toss a lit match in the statue as a final step, and then pour the liquefied wax into the base while praying the 23rd Psalm.
The Lord is my shepherd, I shall not want.
He makes me lie down in green pastures,
he leads me beside quiet waters, he refreshes my soul.
He guides me along the right paths for his name's sake.
Even though I walk through the darkest valley, I will fear no evil,
for you are with me; your rod and your staff, they comfort me.
You prepare a table before me in the presence of my enemies.
You anoint my head with oil; my cup overflows.
Surely your goodness and love will follow me all the days of my life,
and I will dwell in the house of the Lord forever.

[Psalm 23]
Don't worry that there won't be enough room for all the beeswax; heated in the microwave it will become almost as thin as water and the dried herbs in the hollow will lose most of their volume as they absorb it.
The list of things you can do with the completed fetish are endless, from love spells and domination works to finessing your way out of legal trouble; just for laughs, you can even get cinnamon, patchouli and vanilla joss sticks and hold them lit between your praying hands as you chant the 23rd Psalm to High John – I'm not sure he actually cares as long as he gets a shot of whiskey.
I don't recommend keeping loaded statues like this in your bedroom, but if you absolutely have to, then cover it with a cloth or keep it in a box so its energy doesn't interfere with your mind while you sleep.