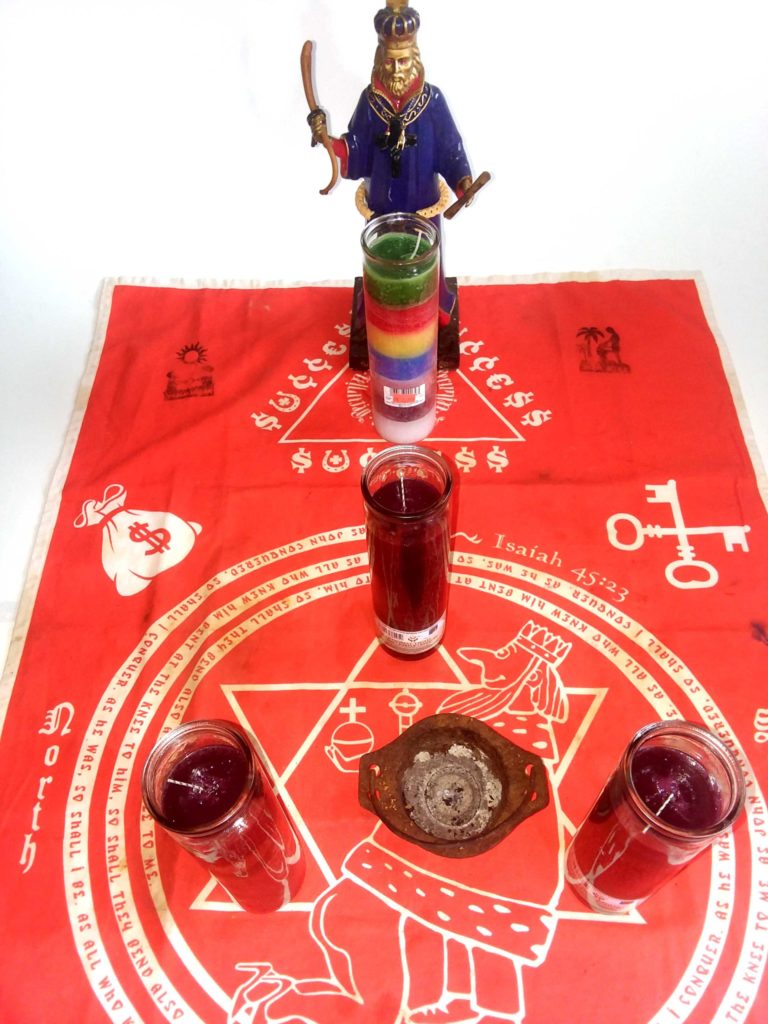 High John the Conqueror ritual for Personal Power & Success
I got this idea from looking at the Sonny Boy site, which uses a lot of text-heavy graphics, kind of like old-fashioned roadside billboards. The graphic for their "High John" page is especially awesome, and reads (in part):
When something happens to get your life all messed up, Lite 3 High John candles, and let them burn out. Pray over the candles every time you get a chance, be sure to ask for the blessing you need.
High John is a super communicator.
Hard Worker… a Miracle Worker.
Now you might be wondering what about this I found to be so profound – it really was just the simplicity and the faith of it that resonated with me. Whose life doesn't get "all messed up" once in a while, and who couldn't use the help of a "Hard Worker"?
In a way, this unpretentious plea from the heart powerfully reminded me of who High John the Conqueror actually is and what he does.
Anyway, since I already had a custom "High John" flag I made myself (inspired by the magician's triangle of Goetic magic), this seemed like the perfect use for it!
I put three purple candles in three of the corners of the Star of David at the bottom and a striped 7 color candle in the triangle up top, along with my High John loaded statue.
Then used a pencil to inscribe the purple candles with:
my name
birthday
7 holes
and the phrase "Be better!"
I inscribed the 7 color candle with:
my name
birthday
7 holes
and words explaining what I want the improved version of myself to be: Happy, Strong, Confident, Wise, Lucky, Successful, a King
Then I dressed all of the candles with:
I lit the candles, lit some success incense in an iron brazier in the bottom triangle, and then free-formed a sincere prayer calling on High John – the problem solver, the hard worker, the miracle worker – to give me the strength to improve myself in every way, especially helping me to conquer my problems and the fears that were holding me back.
As per usual I also prayed the 23rd Psalm 3 times (I treat the psalms like Buddhist chants, in that I will usually chant them some odd number of times when I'm doing a spiritual work.)
Within a day or two, I found myself overcome by a blinding rage so intense it was almost debilitating. I started obsessively brooding over various people in my life who had treated me poorly, taken me for granted, or betrayed me in some way. For about 8 hours, I felt like I was being mentally drawn and quartered – the sensation was so powerful I was unable to focus on anything else.
At my wit's end, I drank a couple of teaspoons of magnesium citrate (which is supposed to close the loop on obsessive thoughts), lit some sandalwood incense, and prayed to the Buddha. I checked and the 7 color candle was burning away the red layer specifically, so I can only assume that some blockage was being cleared from my first chakra: survival and territoriality issues, aggression and personal integrity.
By the next morning I felt completely back to my old self, and by the time the 7 color candle had burned halfway down I felt more focused and motivated than I have in years – literally pacing around my apartment like a tiger stalking a deer in the forest, knocking off task after task, accomplishing huge projects I'd been procrastinating on for months – I even designed and built this entire blog in one weekend!
I'd rate this experiment as a success, A+.